Here you will find everthing you need to know about LabyMod second chat.
Why would I want to use Second Chat?
Simply because as you know there is a lot of stuff going on at the same times, with LabyMod second chat you will be able to split your chat in 2.

How do I install LabyMod Second Chat?
First make sure Chat Filter is enable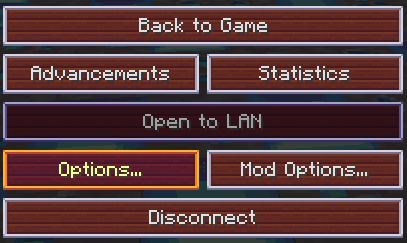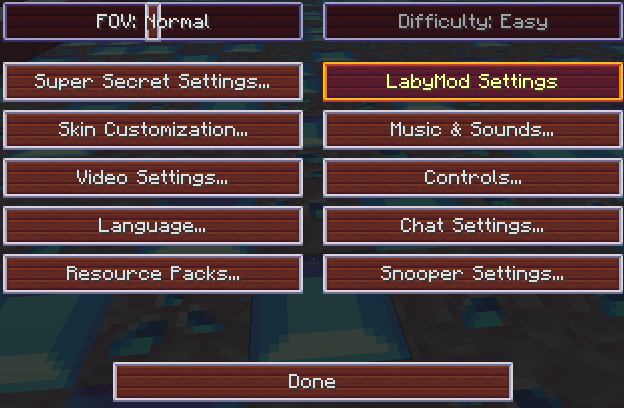 Now that it is enable open up your chat, to the bottom right you will see a hopper click on it

It will look like this once everything is done: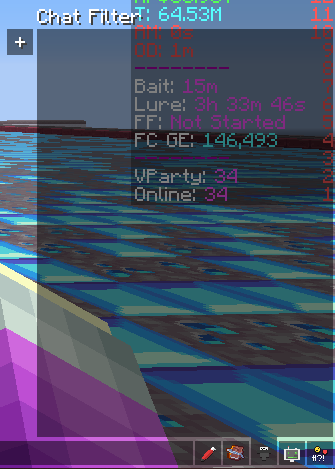 How do I add a filter?
Click on the + to add a new filter

For this example I will make a filter for the autominer:
- Enter a FilterName ( This is for you, since it has no impact on the filter)
- Enter the message you want to filter, since it is AutoMiner we will write: (Auto-Miner) that way it will only filter message with the exact message in it.
- Untick Highlight box
- Tick Secondary chat
- Hit the Save bottom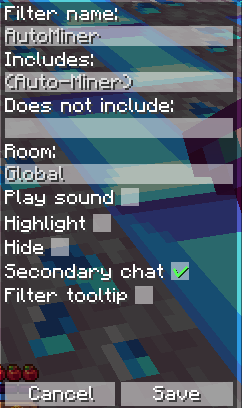 My own Second Chat Filter
If you don't want to type it all up cause it is long you can always use mine, I filter a lot of stuff you can always remove some of them by click the red X on the Chat Filter
Follow those steps:
- Open your .minecraft file ( to find it type %appdata% on your search bar)

- Open LabyMod file (\.minecraft\LabyMod)
- Open the file called:
filters
- Copy Paste the following:
Code: Select all
{
  "filters": [
    {
      "filterName": "DankMines",
      "wordsContains": [
        "(DankMines) You have"
      ],
      "wordsContainsNot": [],
      "playSound": false,
      "soundPath": "note.harp",
      "highlightMessage": false,
      "highlightColorR": 200,
      "highlightColorG": 200,
      "highlightColorB": 50,
      "hideMessage": false,
      "displayInSecondChat": true,
      "filterTooltips": false,
      "room": "Global"
    },
    {
      "filterName": "DankMineTimer",
      "wordsContains": [
        "(DankMines) You must wait"
      ],
      "wordsContainsNot": [],
      "playSound": false,
      "soundPath": "note.harp",
      "highlightMessage": false,
      "highlightColorR": 200,
      "highlightColorG": 200,
      "highlightColorB": 50,
      "hideMessage": false,
      "displayInSecondChat": true,
      "filterTooltips": false,
      "room": "Global"
    },
    {
      "filterName": "FrenzyDisable",
      "wordsContains": [
        "Frenzy Enchant has been Deactivated"
      ],
      "wordsContainsNot": [],
      "playSound": false,
      "soundPath": "note.harp",
      "highlightMessage": false,
      "highlightColorR": 200,
      "highlightColorG": 200,
      "highlightColorB": 50,
      "hideMessage": false,
      "displayInSecondChat": true,
      "filterTooltips": false,
      "room": "Global"
    },
    {
      "filterName": "RampageActivated",
      "wordsContains": [
        "Rampage Enchant has been Activated by"
      ],
      "wordsContainsNot": [],
      "playSound": false,
      "soundPath": "note.harp",
      "highlightMessage": false,
      "highlightColorR": 200,
      "highlightColorG": 200,
      "highlightColorB": 50,
      "hideMessage": false,
      "displayInSecondChat": true,
      "filterTooltips": false,
      "room": "Global"
    },
    {
      "filterName": "RampageDisable",
      "wordsContains": [
        "Rampage Enchant has been Deactivated"
      ],
      "wordsContainsNot": [],
      "playSound": false,
      "soundPath": "note.harp",
      "highlightMessage": false,
      "highlightColorR": 200,
      "highlightColorG": 200,
      "highlightColorB": 50,
      "hideMessage": false,
      "displayInSecondChat": true,
      "filterTooltips": false,
      "room": "Global"
    },
    {
      "filterName": "FrenzyActivated",
      "wordsContains": [
        "Frenzy Enchant has been Activated by"
      ],
      "wordsContainsNot": [],
      "playSound": false,
      "soundPath": "note.harp",
      "highlightMessage": false,
      "highlightColorR": 200,
      "highlightColorG": 200,
      "highlightColorB": 50,
      "hideMessage": false,
      "displayInSecondChat": true,
      "filterTooltips": false,
      "room": "Global"
    },
    {
      "filterName": "TokenReceivedCrates",
      "wordsContains": [
        "(Crates) You have found"
      ],
      "wordsContainsNot": [],
      "playSound": false,
      "soundPath": "note.harp",
      "highlightMessage": false,
      "highlightColorR": 200,
      "highlightColorG": 200,
      "highlightColorB": 50,
      "hideMessage": false,
      "displayInSecondChat": true,
      "filterTooltips": false,
      "room": "Global"
    },
    {
      "filterName": "Leveler",
      "wordsContains": [
        "(Enchants) Leveler increased"
      ],
      "wordsContainsNot": [],
      "playSound": false,
      "soundPath": "note.harp",
      "highlightMessage": false,
      "highlightColorR": 200,
      "highlightColorG": 200,
      "highlightColorB": 50,
      "hideMessage": false,
      "displayInSecondChat": true,
      "filterTooltips": false,
      "room": "Global"
    },
    {
      "filterName": "Clever",
      "wordsContains": [
        "(Enchants) Clever increased"
      ],
      "wordsContainsNot": [],
      "playSound": false,
      "soundPath": "note.harp",
      "highlightMessage": false,
      "highlightColorR": 200,
      "highlightColorG": 200,
      "highlightColorB": 50,
      "hideMessage": false,
      "displayInSecondChat": true,
      "filterTooltips": false,
      "room": "Global"
    },
    {
      "filterName": "Slots",
      "wordsContains": [
        "(Slots)"
      ],
      "wordsContainsNot": [],
      "playSound": false,
      "soundPath": "note.harp",
      "highlightMessage": false,
      "highlightColorR": 200,
      "highlightColorG": 200,
      "highlightColorB": 50,
      "hideMessage": false,
      "displayInSecondChat": true,
      "filterTooltips": false,
      "room": "Global"
    },
    {
      "filterName": "WoF",
      "wordsContains": [
        "(WoF)"
      ],
      "wordsContainsNot": [],
      "playSound": false,
      "soundPath": "note.harp",
      "highlightMessage": false,
      "highlightColorR": 200,
      "highlightColorG": 200,
      "highlightColorB": 50,
      "hideMessage": false,
      "displayInSecondChat": true,
      "filterTooltips": false,
      "room": "Global"
    },
    {
      "filterName": "LuckyBlock",
      "wordsContains": [
        "(LB) You\u0027ve uncovered"
      ],
      "wordsContainsNot": [],
      "playSound": false,
      "soundPath": "note.harp",
      "highlightMessage": false,
      "highlightColorR": 200,
      "highlightColorG": 200,
      "highlightColorB": 50,
      "hideMessage": false,
      "displayInSecondChat": true,
      "filterTooltips": false,
      "room": "Global"
    },
    {
      "filterName": "RampageExtended",
      "wordsContains": [
        "Rampage Enchant has been Extended by"
      ],
      "wordsContainsNot": [],
      "playSound": false,
      "soundPath": "note.harp",
      "highlightMessage": false,
      "highlightColorR": 200,
      "highlightColorG": 200,
      "highlightColorB": 50,
      "hideMessage": false,
      "displayInSecondChat": true,
      "filterTooltips": false,
      "room": "Global"
    },
    {
      "filterName": "FrenzyExtended",
      "wordsContains": [
        "Frenzy Enchant has been Extended"
      ],
      "wordsContainsNot": [],
      "playSound": false,
      "soundPath": "note.harp",
      "highlightMessage": false,
      "highlightColorR": 200,
      "highlightColorG": 200,
      "highlightColorB": 50,
      "hideMessage": false,
      "displayInSecondChat": true,
      "filterTooltips": false,
      "room": "Global"
    },
    {
      "filterName": "DragonBoosterFound",
      "wordsContains": [
        "(DB) A minute of Dragon Booster Time"
      ],
      "wordsContainsNot": [],
      "playSound": false,
      "soundPath": "note.harp",
      "highlightMessage": false,
      "highlightColorR": 200,
      "highlightColorG": 200,
      "highlightColorB": 50,
      "hideMessage": false,
      "displayInSecondChat": true,
      "filterTooltips": false,
      "room": "Global"
    },
    {
      "filterName": "CrateMessage",
      "wordsContains": [
        "(Crates)"
      ],
      "wordsContainsNot": [],
      "playSound": false,
      "soundPath": "note.harp",
      "highlightMessage": false,
      "highlightColorR": 200,
      "highlightColorG": 200,
      "highlightColorB": 50,
      "hideMessage": false,
      "displayInSecondChat": true,
      "filterTooltips": false,
      "room": "Global"
    },
    {
      "filterName": "DragonLairFound",
      "wordsContains": [
        "(DL) A minute of Dragon\u0027s Lair Time"
      ],
      "wordsContainsNot": [],
      "playSound": false,
      "soundPath": "note.harp",
      "highlightMessage": false,
      "highlightColorR": 200,
      "highlightColorG": 200,
      "highlightColorB": 50,
      "hideMessage": false,
      "displayInSecondChat": true,
      "filterTooltips": false,
      "room": "Global"
    },
    {
      "filterName": "Plinko",
      "wordsContains": [
        "(Plinko)"
      ],
      "wordsContainsNot": [],
      "playSound": false,
      "soundPath": "note.harp",
      "highlightMessage": false,
      "highlightColorR": 200,
      "highlightColorG": 200,
      "highlightColorB": 50,
      "hideMessage": false,
      "displayInSecondChat": true,
      "filterTooltips": false,
      "room": "Global"
    },
    {
      "filterName": "LB+Message",
      "wordsContains": [
        "(LB+) You\u0027ve uncovered"
      ],
      "wordsContainsNot": [],
      "playSound": false,
      "soundPath": "note.harp",
      "highlightMessage": false,
      "highlightColorR": 200,
      "highlightColorG": 200,
      "highlightColorB": 50,
      "hideMessage": false,
      "displayInSecondChat": true,
      "filterTooltips": false,
      "room": "Global"
    },
    {
      "filterName": "LuckyFortuneTalent",
      "wordsContains": [
        "(Talents) Lucky Fortune"
      ],
      "wordsContainsNot": [],
      "playSound": false,
      "soundPath": "note.harp",
      "highlightMessage": false,
      "highlightColorR": 200,
      "highlightColorG": 200,
      "highlightColorB": 50,
      "hideMessage": false,
      "displayInSecondChat": true,
      "filterTooltips": false,
      "room": "Global"
    },
    {
      "filterName": "PetsPlinko",
      "wordsContains": [
        "(Pets) You\u0027ve uncovered a "
      ],
      "wordsContainsNot": [],
      "playSound": false,
      "soundPath": "note.harp",
      "highlightMessage": false,
      "highlightColorR": 200,
      "highlightColorG": 200,
      "highlightColorB": 50,
      "hideMessage": false,
      "displayInSecondChat": true,
      "filterTooltips": false,
      "room": "Global"
    },
    {
      "filterName": "Artifacts",
      "wordsContains": [
        "(Artifacts)"
      ],
      "wordsContainsNot": [],
      "playSound": false,
      "soundPath": "note.harp",
      "highlightMessage": false,
      "highlightColorR": 200,
      "highlightColorG": 200,
      "highlightColorB": 50,
      "hideMessage": false,
      "displayInSecondChat": true,
      "filterTooltips": false,
      "room": "Global"
    },
    {
      "filterName": "PlotRoadMessage",
      "wordsContains": [
        "[P2] you are lacking the permission node:"
      ],
      "wordsContainsNot": [],
      "playSound": false,
      "soundPath": "note.harp",
      "highlightMessage": false,
      "highlightColorR": 200,
      "highlightColorG": 200,
      "highlightColorB": 50,
      "hideMessage": true,
      "displayInSecondChat": false,
      "filterTooltips": false,
      "room": "Global"
    },
    {
      "filterName": "PlotFlagUse/BreakMessage",
      "wordsContains": [
        "[P2] Have an admin set the flag"
      ],
      "wordsContainsNot": [],
      "playSound": false,
      "soundPath": "note.harp",
      "highlightMessage": false,
      "highlightColorR": 200,
      "highlightColorG": 200,
      "highlightColorB": 50,
      "hideMessage": true,
      "displayInSecondChat": false,
      "filterTooltips": false,
      "room": "Global"
    },
    {
      "filterName": "PvPAttackMember",
      "wordsContains": [
        "(PvP) Cannot damage other gang"
      ],
      "wordsContainsNot": [],
      "playSound": false,
      "soundPath": "note.harp",
      "highlightMessage": false,
      "highlightColorR": 200,
      "highlightColorG": 200,
      "highlightColorB": 50,
      "hideMessage": true,
      "displayInSecondChat": false,
      "filterTooltips": false,
      "room": "Global"
    },
    {
      "filterName": "AutoMiner",
      "wordsContains": [
        "(Auto-Miner)"
      ],
      "wordsContainsNot": [],
      "playSound": false,
      "soundPath": "note.harp",
      "highlightMessage": false,
      "highlightColorR": 200,
      "highlightColorG": 200,
      "highlightColorB": 50,
      "hideMessage": false,
      "displayInSecondChat": true,
      "filterTooltips": false,
      "room": "Global"
    },
    {
      "filterName": "KeyCraftingMessage",
      "wordsContains": [
        "(Crafting)"
      ],
      "wordsContainsNot": [],
      "playSound": false,
      "soundPath": "note.harp",
      "highlightMessage": false,
      "highlightColorR": 200,
      "highlightColorG": 200,
      "highlightColorB": 50,
      "hideMessage": false,
      "displayInSecondChat": true,
      "filterTooltips": false,
      "room": "Global"
    },
    {
      "filterName": "Enchants",
      "wordsContains": [
        "(Enchants)"
      ],
      "wordsContainsNot": [],
      "playSound": false,
      "soundPath": "note.harp",
      "highlightMessage": false,
      "highlightColorR": 200,
      "highlightColorG": 200,
      "highlightColorB": 50,
      "hideMessage": false,
      "displayInSecondChat": true,
      "filterTooltips": false,
      "room": "Global"
    },
    {
      "filterName": "LuckyKeyPet",
      "wordsContains": [
        "(Pets) Lucky Keys Pet has found"
      ],
      "wordsContainsNot": [],
      "playSound": false,
      "soundPath": "note.harp",
      "highlightMessage": false,
      "highlightColorR": 200,
      "highlightColorG": 200,
      "highlightColorB": 50,
      "hideMessage": false,
      "displayInSecondChat": true,
      "filterTooltips": false,
      "room": "Global"
    }
  ]
}